Plantation Shutters for Homes in Philadelphia, PA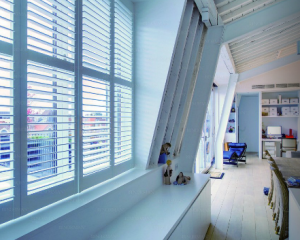 Plantation shutters were the window treatment of choice for homes, when indoor climate control had yet to be invented. With the simple turn of a lever, the slats of plantation shutters could be angled to capture a welcome breeze or shut tightly to block out the cold on a chilly winter's day. Today's interior shutters still claim a special place in the hearts of homeowners who admire their distinguished appearance, and they remain a top choice for those who want energy-efficient window treatments for their homes. If you're in the market for high-quality plantation shutters for your home in the Philadelphia, Pennsylvania, area, you won't find a better partner than Beltway Blinds.
Benefits of Plantation Shutters
Here are some of the leading reasons why plantation shutters remain popular among homeowners:
Energy Efficiency
Because they're installed right up against the window frame, interior shutters are one of the best window coverings to prevent outside air from seeping into your home through your windows, which could lead to increased HVAC use.
Privacy and Light Control
Homeowners can easily maneuver the slats of plantation shutters to block prying eyes and solar glare while still allowing ample daylight to stream into their homes.
Ease of Maintenance
Plantation shutters are among the easiest window treatments to keep clean. Occasional dusting and wiping with a clean cloth will do the trick.
When you turn to Beltway Blinds to outfit your home with plantation shutters, you'll receive top-quality shutters that are custom-manufactured to fit your windows from one of the industry's leading manufacturers. We offer genuine wood shutters, available in a wide assortment of colors, and faux wood shutters, with a selection of various shades of white to choose from. In addition to traditional plantation shutters, we also offer shutters for circular windows and glass door inserts.
To learn more about the beautiful plantation shutters we can expertly install in your Philadelphia-area home, contact Beltway Blinds today.