Custom Interior Shutters for Homes in Philadelphia, PA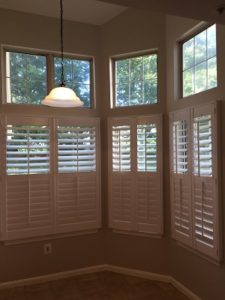 Are you planning to add custom interior shutters to your windows? It's a good idea to think about these window coverings as built-in furniture – because they are. At least, that's the opinion of many real estate experts who identify this type of window treatment as one of the few that can actually add value to your home should you decide to sell it. If you live in the Philadelphia, Pennsylvania, area, the best place to turn for custom shutters that will add beauty and elegance to your home for decades is Beltway Blinds.
Types of Shutters We Offer
At Beltway Blinds, we offer many different types of interior shutters – also known as plantation shutters – all exquisitely crafted by leading manufacturers that are known for their insistence on quality. No matter which shutters you choose, they will be made to order to fit your windows and expertly installed by our highly trained professionals. Because all of our shutters are built to our customers' specifications, you can even get these distinguished window treatments for circular windows and glass door inserts.
Genuine Wood Shutters
For some homeowners, nothing but the look of real wood will do. We offer authentic wood shutters in traditional and modern styles, and they're available with louvers in different sizes. One of the primary benefits of wooden shutters is that they can be stained in just about any color you like.
Composite Wood Shutters
These shutters offer all the appeal of their genuine wood counterparts at a more affordable price. If these are the right shutters for you, you'll have six shades of white to choose from.
We'll be happy to tell you more about our lovely shutters and help you choose the best options to grace your home. Contact Beltway Blinds today to schedule a free consultation at your home in the Philadelphia area, during which we can also tell you about the financing options we have for qualified homeowners.