Are Cellular Shades Energy Efficient?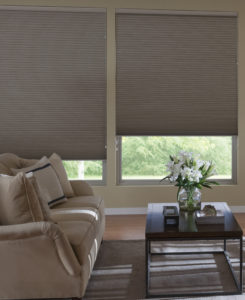 Cellular window shades, also known as honeycomb shades, are indeed energy efficient; in fact, the U.S. Department of Energy has described this type of window covering as one of the best choices for homeowners who want to conserve energy and potentially enjoy lower heating and cooling costs. Among the many different types of window coverings, insulated cellular shades have one of the highest R-values, which means they're a standout at reducing the conduction of heat through windows. Their superior ability to block heat transfer can be attributed to their design: the pleated fabric creates a series of air pockets, which act as insulators that help keep indoor temperatures uniform whether it's chilly or warm outside.
If you're located in Ashburn or one of the surrounding Virginia communities, where winters can be brutally cold and summers are often broiling hot, cellular shades make an excellent window treatment choice for your home or workplace.
The Importance of Expert Installation
To get the best energy conservation benefits out of your honeycomb shades, it's important to invest in a high-quality product and professional installation. According to the Department of Energy, tightly installed cellular shades can reduce heat loss through your windows by more than 40% and heat gain by up to 80%. At Beltway Blinds, we know the importance of providing our customers with expert installation along with shades that are custom made to fit their windows by leading manufacturers who insist on using top-quality materials. Our highly trained specialists will precisely measure your window openings to make sure your honeycomb shades fit as tightly as possible. Then we'll follow up with expert installation services, and we won't call your project complete until you're satisfied that your shades look beautiful and are operating properly.
We offer a wide variety of gorgeous honeycomb shades with many optional features that can help you maximize light control and privacy along with energy efficiency. To learn more about the custom cellular shades we install in homes and offices throughout the Ashburn, VA, area, contact Beltway Blinds today.