Wooden Shutters Installed for Homes in Washington, D.C. & All Nearby Areas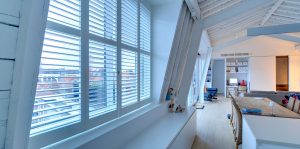 Brand-new window treatments in the color of your choice can be the perfect way to add some serious visual interest to your Washington, D.C., home. Think about it: You find the perfect color to complement your home's aesthetic and suddenly it looks better than ever before. If that sounds like something you're interested in, Beltway Blinds can help. Our professionals are proud to install wooden shutters of the finest quality for homeowners in the area. These attractive shutters are available in a truly dazzling array of colors—in fact, they can be stained to any hue of your choosing. Truly, the perfect accent to your home's beauty is just a click or a phone call away—we're ready and waiting to partner with you for an installation!
Top-Notch Wooden Shutters From the Industry's Best Manufacturers
At Beltway Blinds, we have long been committed to offering only the best window treatments to the homeowners we serve. That's why we source our high-end wooden shutters from several respected manufacturers, including Norman Shutters and Alta Window Fashions. These classic window products are designed for the long run, as they can last anywhere between 80 and 100 years if properly maintained. Plus, our wooden shutters are sourced responsibly and made sustainably, making them an excellent product for environmentally conscious families.
The Benefits of Investing in Our Wooden Shutters Go Far Beyond Beauty
Of course, our wooden shutters provide many more benefits beyond serving as attractive accents to your home windows. The products we offer in the Washington, D.C., area are custom-sized to suit the windows of your home and can be reconfigured to suit circular or irregularly shaped windows. Plus, they are designed to absorb ultraviolet radiation and protect you, your loved ones, and your belongings from the damaging effects of the sun.
Ensuring the Utmost Quality When Installing Your New Wooden Shutters
If you're calling on Beltway Blinds to install wooden shutters at your home, you can rest assured that our team of highly trained professionals will get the job done without a hitch. That means precisely installing your new treatments so that they provide a clean, beautiful look and optimal performance for years to come. Not to mention, whether you purchase our wooden shutters or any of our other products, you can be sure that we'll stand behind the quality of our products and services. We offer a lifetime labor warranty on the work provided by our skilled installation teams in addition to the manufacturer warranties that come standard with our treatments.
Get Your New Wooden Shutters Today
To learn more about our eco-friendly wooden shutters and how they can add visual appeal to your home in the Washington, D.C., area, contact Beltway Blinds today. Be sure to ask about our financing and same-as-cash options, which we offer to all qualified homeowners.