Honeycomb Shades Can Beautify Your Home in the Washington, D.C. Metro Area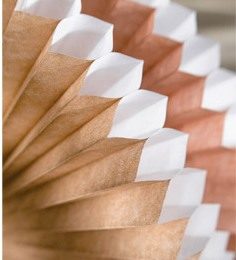 Honeycomb shades, also referred to as honeycomb blinds, are one of the most popular types of window treatments on the market, as they offer exceptional functional benefits in addition to their beautiful design. Not only will these shades add a charming accent to your Washington, D.C., home's windows, but they'll also help improve its energy efficiency. Thanks to their honeycomb-like structure, from which they derive their name, honeycomb blinds help to diffuse exterior light for a calming, warm glow. This honeycomb-structure also creates air pockets, which can insulate your windows and help to limit the sun's effect on the temperature of your home's interior. Honeycomb shades minimize solar heat gain, reduce the workload placed on your HVAC system, and allow you to enjoy comfortable indoor temperatures year-round. With your new shades helping to regulate interior temperatures, you may even see a decrease in your monthly energy costs.
Benefits of Honeycomb Shades
While the primary draw of honeycomb shades is their energy efficiency, these shades offer many additional benefits that make them a great choice for any home. For example, honeycomb blinds are:
Noise Reducing
The insulating properties of honeycomb blinds cause these window coverings to dampen outside noise, making them perfect for homes located on busy streets or next to noisy neighbors.
Modern
There are many types of window coverings that can make your home look dated, but not honeycomb shades. These shades offer a contemporary look that will add visual appeal to your home and take its interior design to the next level.
Cordless Options
The honeycomb blinds that we install are available in cordless and motorized styles. The lack of cords and strings allows for a clean, streamlined appearance while also making the shades a safer choice for households with small children and pets.
Customize Your Window Shades
Our honeycomb shades are available in a number of style options, so you'll be able to customize them to suit your home in Washington, D.C. If you're not sure which options to pick, you can count on our friendly team of professional designers to help you decide. We offer:
Light-filtering and room-darkening styles
Top-down and bottom-up versions
Several appealing texture and color options
Cordless and motorized versions, allowing you to choose your preferred control scheme
Combinations with other window treatments, like our trilight shades, for a unique, dimensional look
Honeycomb Blind Installation
For your new shades to function properly, they need to be installed correctly, and you can count on us to get the job done right. We never hire subcontractors, so all of our technicians are in-house employees who are trained to follow our careful procedures. With our team installing your honeycomb shades, you can rest assured that the project will be completed efficiently and that your shades will provide years of reliable performance. We'll even back our work with a labor warranty for added peace of mind.
For additional information about the honeycomb shades we install for homeowners in the Washington, D.C., area, contact Beltway Blinds today. We're proud to offer a wide range of window treatments such as blinds and shutters, as well as financing options for all qualified homeowners.