Beltway Blinds Offers a Top-Notch Selection of Window Treatments for Homes in Gaithersburg, MD & Surrounding Areas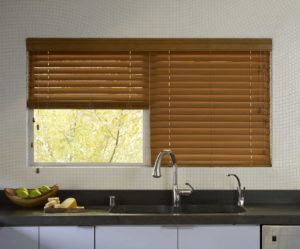 If you are looking for a beautiful selection of premium blinds in the Gaithersburg, Maryland, area, you can end your search with Beltway Blinds. We have gone to extensive lengths to find and offer only the highest-quality window treatments on the market, and as a result have gained a long-standing reputation in the community as the go-to resource for exceptional window blinds and unbeatable installation services. We custom-cut all of our products to the exact dimensions of your window openings, so you can trust that your treatments will fit flawlessly upon the initial installation. Plus, our treatments are offered in an enormous array of beautiful colors, so you will have the freedom to design the products that best suit your unique aesthetic preferences.
When you choose Beltway Blinds as your source for exceptional window treatments in the Gaithersburg, MD, area, you will have access to an elite selection of different blind materials and styles, including:
Wood – Our wooden blind selection is an eco-friendly way to add a naturally charming feel to your home. This collection comes in more than 30 beautiful colors and boasts add-on features such as designer finishes and enhanced wood grains.
Vertical – This blind option is available in fabric or PVC vinyl. Our PVC vinyl vertical blinds are available in a number of attractive white hues and our fabric selections are available in an array of drapery-like colors with room darkening and semi-opaque options.
Faux wood – This blind option is a popular choice for homeowners who want the look and feel of real wood without the expensive price tag.
Aluminum – Our luxurious collection of aluminum blinds is available in a variety of baked-on colors and tones and boasts incredible durability.
To learn more about the impressive selection of window treatments we offer for homeowners in Gaithersburg, MD, and surrounding areas, contact Beltway Blinds today.