Premium Roller Shades for Your Commercial Property in the Fulton, MD, Area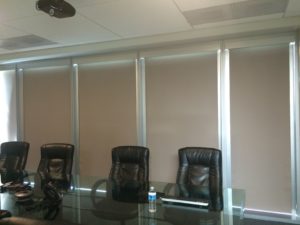 Do you want to add visually appealing and built-to-last roller shades to your commercial property in the Fulton, Maryland, area? If so, why not allow the experienced and committed professionals at Beltway Blinds to assist you? We can provide the perfect window treatments for your workplace that will enhance privacy as well as offer protection from harsh sunlight.
The solar roller shades we offer are ideal for many types of workspaces, as they reflect light during the day, which will enable you to see out the windows while those on the outside cannot see inside. In other words, you can enjoy privacy while still being able to see outside. Additionally, our solar rollers can be customized to meet your aesthetic preferences and cater to your needs. For example, you'll be able to choose the mode of operation (motorization, cords, etc.), colors, and textures of your new window treatments.
The Experts at Beltway Blinds Can Install Your New Window Treatments
Our skilled technicians will make certain your roller shades are installed correctly and in a prompt fashion so that you can begin enjoying your new office upgrades as quickly as possible. In fact, we are so confident in the work we complete, we back our labor with an impressive lifetime warranty.
Contact Beltway Blinds
To learn more about the commercial roller shades we sell and install in the Fulton area, contact Beltway Blinds today. When you do, we'll be happy to answer any questions you have and speak with you in depth about the top-of-the-line products and services we have available.