Beltway Blinds Offers Premium Windows Shades to Commercial Property Owners throughout Silver Spring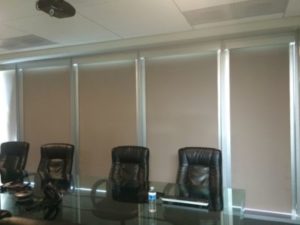 If you are in the market for top-quality window shades for your commercial property in or around the Silver Spring, Maryland, area, you need not look any further than Beltway Blinds. We can supply you with visually appealing, functional, and economical solar shades that will provide maximum protection from the harsh sun as well as privacy from any passersby.
Furthermore, while our solar shades are effective in preventing those outside your property from looking in, those inside your building will still be able to view the outdoors. This is perhaps one of the major reasons why business owners choose our solar shades time and again.
All the Ways You Can Customize Your Window Shades
When you partner with Beltway Blinds for new solar shades, you can look forward to deciding exactly how your window treatments to look and operate. For example, you can choose the texture and color of your upgrades. Additionally, you can decide if you want them to be corded, cordless, or motorized.
Professional Window Shade Installations by Beltway Blinds
Our highly skilled team will ensure your shades are delivered and installed correctly and promptly so that you can begin enjoying your new window treatments as quickly as possible. And, because we are so confident in the installations we complete, we back our work with an impressive lifetime warranty.
For more information about the window shades we can provide for your commercial property in the Silver Spring area, contact Beltway Blinds today. We'll be delighted to answer any questions you have.