Do Plantation Shutters Add Value to Your Home?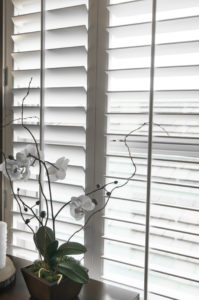 Plantation shutters are exceptionally popular window treatments and have been for centuries. Moreover, because they're typically custom-crafted and professionally installed on a home's windows, many real estate experts view them as permanent fixtures that will indeed add value to your home if you decide to sell it.
High-quality plantation shutters are often among the pricier window treatments you could invest in – especially if your personal tastes lean toward shutters crafted from genuine wood. However, there are beautiful and highly durable faux wood shutters on the market these days that are typically less expensive; and, for the bathroom or laundry room, they may make a better choice because they're resistant to humidity. Additionally, investing in plantation shutters may provide you with some thrifty advantages you haven't thought about. Here are a few:
Solo Act
Unlike window blinds and shadings, plantation shutters usually do all the work of adorning your windows and providing shade and privacy on their own. There's no need to pair them with valances, cornice boards, or drapes, which would add to your window treatment costs.
Energy Efficiency
Interior shutters that are custom made and expertly installed on your windows will fit snugly and thus effectively block heat transfer that can drive up your heating and cooling costs.
Longevity
Plantation shutters are known to last for decades, and they never go out of style. This means you won't need to update your window treatments every few years to keep your home décor up to date.
If you live in Ashburn, Virginia, or a neighboring community, you can turn to Beltway Blinds for a wide selection of plantation shutters and other custom window treatments. We'll be happy to take a look at your windows, discuss your goals for shade and privacy, and help you choose the ideal window coverings to meet them. Contact us today to schedule a free in-home consultation at your convenience.