Honeycomb Shades Can Beautify your Home in the Washington, D.C. Metro Area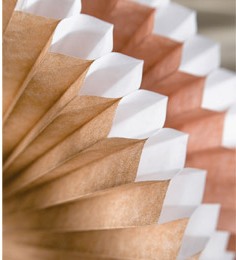 Honeycomb shades can not only add a charming accent to your Washington, D.C., home's windows, but also help to improve its energy efficiency. Thanks to their honeycomb-like structure, from which they derive their name, these shades can help to diffuse exterior light for a calming, warm glow. When combined with their polyester construction, this light diffusion not only looks great, but can help to limit the sun's effect on the temperature of your home. Honeycomb shades limit solar heat gain, reduce the workload placed on your central air conditioning system, and allow you to enjoy cooler indoor temperatures and potentially decreased energy costs
Honeycomb shades are also available in a number of different style options, so you can be sure that you'll be able to customize them to suit your home in Washington, D.C. Even if you're not sure which options to pick, our friendly team will be able to help you select from:
Light-filtering and room-darkening styles
Top-down and bottom-up versions
Several appealing texture and color options
Cordless and motorized versions, allowing you to choose your preferred control scheme
Combinations with other window treatments like Tandem or Trilight shades
And more
For additional information about the honeycomb shades we offer to homeowners in the Washington, D.C., area, contact Beltway Blinds today. We're proud to offer a wide range of window treatments such as blinds and shutters, as well as financing options for all qualified homeowners.