Turn to Beltway Blinds for Beautiful Plantation Shutters, Custom Made for Your Baltimore Home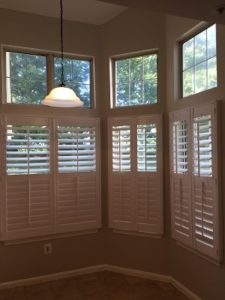 Are you planning to replace your home's existing window treatments with plantation shutters? This is an excellent choice for homeowners in Baltimore and neighboring communities in Maryland. Plantation shutters have been around for centuries, thanks to their versatility and aesthetic appeal. Simply by closing the slats of these shutters, you can enjoy total privacy and reduce the solar heat and glare that can infiltrate your home through your windows. Then, just as easily, you can open the slats to flood your home with streams of natural light and get an ample view of the outdoors whenever you want.
However, the top reason that so many homeowners choose to replace their ho-hum window treatments with this option is the touch of elegance that plantation shutters add to a home's décor.
Why Custom Plantation Shutters from Beltway Blinds Are Your Best Choice
There are many mail-order and DIY stores where you can purchase plantation shutters in standardized sizes. However, if you truly want all the beauty that these shutters can provide, as well as shutters you can count on to operate properly, you'll want to team up with Beltway Blinds for gorgeous plantation shutters that are custom-manufactured to fit your windows and to suit your aesthetic tastes. Plus, when you turn to Beltway Blinds for any kind of window treatment, we'll provide an expert installation by highly trained professionals so that you can rest assured that your new shutters will perform as advertised for many years to come.
Options Available from Beltway Blinds
We offer wooden shutters that can be stained in just about any color you'd like, as well as highly durable composite shutters that come in several shades of white. These shutters are crafted from high-quality materials and meticulously finished so that they'll last for 80 to 100 years, far longer than other typical window treatments. We can also provide plantation shutters to cover circular and specialty-shape windows as well as more common window styles.
The first step toward getting the beautiful plantation shutters you've been envisioning for your Baltimore home is to schedule a free in-home consultation with one of our friendly and knowledgeable representatives. Contact Beltway Blinds today to get started.