Custom Roller Shades Offer a Sophisticated Look & Sunlight Control for Your Fulton, MD, Home or Business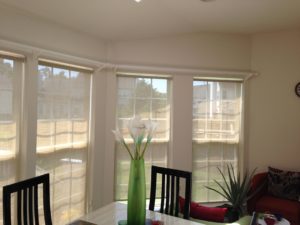 Did you add a sunroom to your home, only to be chased out of your new play space by solar heat and glare at certain times of the day? Is the bare window at the stairway landing allowing a little too much sun to shine in? If you live in Fulton or one of the surrounding Maryland communities, Beltway Blinds has the perfect solution for you: beautiful roller shades that are made to order to meet your needs.
The roller shades we offer and professionally install for homeowners and commercial customers come from manufacturers that lead the industry in quality and innovation. Whether you're in the market for fabric roll-down screens or vinyl shades, or you're envisioning your windows adorned with the elegance of wood, we have the shading solution you're looking for.
An Abundance of Options
When you partner with Beltway Blinds, your new roller shades will be custom manufactured to precisely fit your windows or glass doors, and you'll also enjoy numerous customization options, including:
A multitude of colors and textures to choose from
Your choice of cordless, motorized roller shades or manual operation
A selection of shade material that's tailored to your goals, whether you're seeking UV protection, privacy, or simply the ability to darken a room during the daylight hours
A Bevy of Benefits
Depending on your customization choices, the addition of roller shades can provide several advantages beyond aesthetics, privacy, and shade. For example, they can help protect your furnishings and flooring from premature fading. Plus, you can use your shades to control the amount of solar heat that penetrates windows and glass doors, thus potentially reducing your demand on your HVAC system. In fact, strategic use of your roller shades in summer and winter can potentially lower your cooling and heating costs.
There's so much more we can tell you about our beautiful, top-quality roller shades. Contact Beltway Blinds today to schedule a free consultation at your home or workplace anywhere in the Fulton area.