Custom Interior Shutters for Homeowners in Baltimore, MD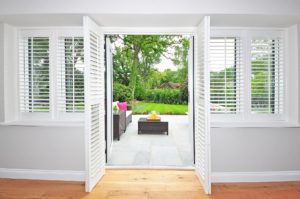 Interior shutters can add a touch of elegance to your home décor, even as they provide a high level of privacy and light control. Additionally, they're also among the more energy-efficient options you can choose because the shutters are installed snugly against the window frame. This creates a seal against air infiltration that could otherwise lead to increased use of your heating and cooling systems and thus higher-than-necessary energy bills.
If you're in the market for interior shutters—also known as plantation shutters—for your home in the Baltimore, Maryland, area, the company to turn to is Beltway Blinds. We're a full-service custom window treatment company that offers some of the most beautiful and well-made shutters, blinds, and shades in the industry. We can help you sort through the options and choose the ideal shutters to suit your aesthetic tastes and your budget. Once you've made your selections, we'll take precise measurements of your windows and handle all the details of your order. Then we'll follow up with an expert installation so that you can rest assured that your shutters will look beautiful and perform as advertised for many years to come.
Types of Shutters We Offer
The shutters we install for homeowners throughout the Baltimore area are sourced from leading manufacturers such as Alta Window Fashions and Norman Shutters. You'll have many options for color, size of the louvers (slats), and other features. However, our shutters generally fall into two main categories:
Genuine Wood
These gorgeous shutters are meticulously crafted to look and function like fine furniture. They're available in a wide selection of stains and colors.
Composite Material
Our medium-density fiberboard (MDF) shutters are more affordable than their real wood counterparts, but they offer the same aesthetic and shade benefits. They're available in several variations of white.
To learn more about the custom shutters we install for homeowners throughout the Baltimore area, contact Beltway Blinds today.