Why Should You Choose Interior Shutters for Your Home in Silver Spring, MD?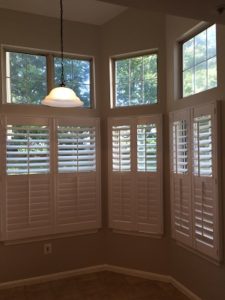 Innovations in the window treatment industry have led to more options than ever before for homeowners who want a little flair to go with their sunlight and privacy control. And yet, interior shutters have continued to be among the most highly sought-after window fashions in the country. Although they were invented centuries ago, their many charms—both practical and aesthetic—have remained hard to beat in the world of window fashion.
If you're thinking about adding shutters to the windows of your home in Silver Spring, Maryland, you can turn to Beltway Blinds for some of the finest options on the market. We'll be happy to schedule an in-home consultation for you in which we'll go over the benefits that shutters can provide and help you decide whether they are the best choice for your home. In the meantime, here are a few of the ways these venerable window shades stand out from the rest:
Lasting Value
Our shutters are custom-crafted to precisely fit your windows or glass door inserts and, once we expertly install them for you, they'll be a built-in fixture that will remain with your home even if you decide to sell. Their fine craftsmanship and exceptional durability can help boost the appeal of your home to potential buyers.
Energy Efficiency
Plantation shutters are flush-mounted against the window wall, which means they typically block heat gain and loss through the glass better than other, more loosely fitting window coverings. This can reduce your reliance on your heating and cooling systems to keep your indoor spaces at a comfortable temperature and thus potentially lower your monthly energy bills.
Standalone Elegance
Unlike most other window fashions, plantation shutters are typically a solo act, and they're quite appealing with no need for curtains, valances, or other embellishments to steal their thunder.
Contact Beltway Blinds today to learn more about the custom shutters we can provide to beautify your home in the Silver Spring area.