SunSetter Awnings for Homes in Washington, DC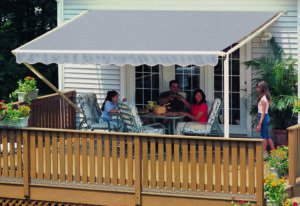 At Beltway Blinds, we know the importance of shading your home from the sun. We install beautiful interior window blinds and shades for homeowners throughout the Washington, DC, area, and we also professionally install outdoor patio shades from SunSetter Awnings, home of the best-selling awnings in America. These retractable awnings can help homeowners get better use out of their outdoor living areas while also boosting their homes' energy efficiency by controlling the amount of solar heat that penetrates windows and glass doors.
Reasons to Turn to Beltway Blinds for Your SunSetter Awning
When you purchase a SunSetter awning from Beltway Blinds, you'll receive professional services that can make a big difference in how great your awning looks and how well it performs after installation. Our technicians are trained to take the precise measurements that are needed to ensure a perfect fit for your patio or deck. They've also mastered all the fine points of mounting awnings and adjusting them to the right pitch. These are all steps of the installation process that are best entrusted to trained professionals if you want to feel confident that your awning will perform properly and deliver all the advertised benefits. In fact, when you have your SunSetter awning installed by our company, your investment will be backed by extended warranties that go beyond the manufacturer's standard product warranty.
Our installation expertise is a big selling point, but homeowners also trust us to provide:
Top-Quality SunSetter Awnings
We offer and install selections from the manufacturer's top-of-the-line Platinum Series. The awnings in this line are exquisitely crafted from ultra-durable Sunbrella® fabric, which is specially engineered to repel water, resist mildew and fading, and protect you and your furnishings from potentially damaging UV rays.
A Generous Array of Customization Options
As longtime window treatment experts, we understand the importance of using shade products to enhance the appearance of your home. When you turn to Beltway Blinds for your SunSetter awning, you'll have a wide variety of colors and patterns to choose from, so you can customize your awning to reflect your personal taste and complement the style of your home. You can also select motorized operation for your awning or choose an easy-to-use hand crank. What's more, we can help you sort through a number of optional accessories so that you can get the best value for your investment. These options include:
A built-in solar screen
Removable weather-breaker panels
Dimming LED lights
A wireless wind sensor
And others
Ready When You Are
If you're ready to transform your deck or patio into the shady outdoor haven you've been dreaming of with a beautiful SunSetter awning, or if you're interested in a freestanding retractable SunSetter canopy, contact Beltway Blinds today to set up a free in-home consultation. We proudly serve homeowners throughout the Washington, DC, area.