Should You Choose Horizontal or Vertical Blinds for Your Home or Business in Alexandria, VA?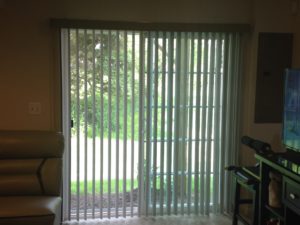 When you need window treatments for your home or business in the Alexandria, Virginia, area, one of the best reasons to turn to Beltway Blinds is the customized services we provide, starting with an in-person consultation about your shading goals. One of the questions we're frequently asked is when does it makes sense to choose vertical blinds instead of horizontal shades or shutters.
Generally speaking, vertical blinds are a good choice when you have a large expanse of glass to cover, although if you'd prefer a different shading option, we may be able to provide an alternative. Many people also opt for vertical blinds when they're shading sliding glass doors because the side-to-side sliding operation of these blinds creates less interference with opening and closing their doors.
Other Things to Consider
Whether you're in the market for vertical or traditional horizontal blinds, you'll want to think about your desires for shade and privacy. For example, when you partner with Beltway Blinds, you can choose beautiful, custom-crafted vertical blinds that can be fashioned from fabric to resemble drapes. With fabric blinds, you can select an opaque material that will completely block the sunlight when your blinds are closed or a semi-opaque fabric that will filter the light that enters the room from the outside. We also offer easy-to-clean PVC vinyl blinds. No matter which type of vertical blinds are right for you, they'll be made to order to fit the precise measurements of your window or glass doors and then expertly installed by the highly trained professionals at Beltway Blinds.
Schedule Your Free Consultation Today
We'll be delighted to discuss your shading goals and help you select the ideal vertical blinds or other custom shades to meet your needs. Contact us today to schedule a free consultation at your home or business anywhere in the Alexandria area.