Beltway Blinds Offers Top-Caliber Vertical Blinds & Other Custom Shades for Homes & Businesses in Bowie, MD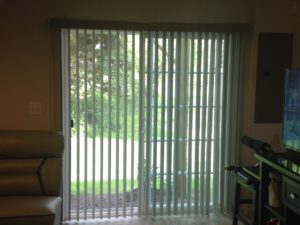 Shading a huge expanse of window glass or sliding glass doors can be a challenge. However, if you live or run a business in the Bowie, Maryland, area, you can enjoy expert assistance from Beltway Blinds. We offer and professionally install some of the most beautiful vertical blinds and other types of custom-crafted shades in the industry.
How to Choose the Ideal Shades for Your Home or Business
One of the first topics we'll discuss when you turn to our company is your shading goals. Do you want shades that completely block sunlight and solar heat, thus allowing your indoor space to remain cool and dark, even during the brightest part of the day? Are you looking for vertical blinds or shades that provide privacy? Or would you prefer semi-opaque fabric blinds that can filter the natural light that enters the room from outside or be fully opened to allow sunlight to stream in unchecked? Vertical blinds are often a great solution for sliding glass doors because they slide from side to side, which is less likely to interfere with the opening and closing of your glass doors.
In addition to your goals for the functionality of your shades, you'll undoubtedly have some ideas about the aesthetic appearance you'd prefer. At Beltway Blinds, we offer vertical blinds that are custom-crafted from fabric, which can be fashioned to resemble drapes, or from durable and easy-to-clean PVC vinyl.
We also have a vast array of other types of custom shades to choose from, including:
Horizontal wood, aluminum, or woven reed blinds
Plantation shutters
Honeycomb or Roman shades
We'll be happy to put our extensive experience to good use to help you select the ideal vertical blinds or other type of shade to meet your specific needs. Contact Beltway Blinds today to schedule a free consultation at your home or workplace in the Bowie area.