Premium Window Blinds Installed for Residents in Washington, D.C.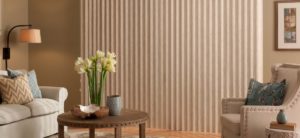 Having window blinds installed in your Washington, D.C., home is an excellent option for any homeowner who wants a stylish accent and light control all in one. And there is no better place to look for premium blinds in the D.C. Metro area than Beltway Blinds. We offer blinds from a variety of top manufacturers, such as Alta Window Fashions, and ensure that all of our offerings are customizable to suit the needs of your home. In fact, our window blinds will be custom-fit to suit the size of your windows or French doors, and are available in several color and material options to best suit your needs.
Perhaps best of all, our window blinds come in a vast array of styles for you to choose from. Our most popular options in the Washington, D.C., area include:
Fabric blinds – These vertical blinds come in both room-darkening and drapery variants.
Wood blinds – These lightweight options come in 30 available stain styles and 10 different colors, as well as various designer finishes and an optional motorized control feature.
PVC vinyl – These cost effective options are extremely durable, and are available in room-darkening or semi-opaque varieties.
Faux wood – Our faux wood window blinds present homeowners with a cost-effective option that closely mimics the looks of real wood and comes in an equally diverse array of colors
No matter which of these premium blinds you choose for your home, you'll be able to rely on the attentive installation work of Beltway Blinds professionals. We're so sure our team will do an excellent job that we back all of their work with a five-year labor warranty.
For more information about the window blinds we offer in Washington, D.C., and all neighboring communities, contact Beltway Blinds today.