Visually Appealing & Easy-to-Operate Window Blinds for Homeowners Throughout the Washington, D.C., Area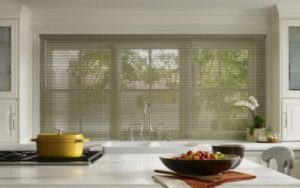 If you want to add beautiful and functional window blinds to your home in or around the Washington, D.C., area, look no further than Beltway Blinds. We offer a wide selection of fantastic blinds that will enhance privacy and allow you to easily control how much sunlight enters your home. And, all of the blinds we offer can be fully customized to reflect your specific preferences.
To ensure we have window blinds to meet a variety of styles, needs, and budgets we offer:
Fabric Blinds
This style of vertical blind comes in a number of stunning fabric options can resemble beautiful drapery and be room darkening.
Aluminum Blinds
These 1" wide window treatments come in a plethora of color options, making certain you can find one that matches the style of your home.
PVC Vinyl Blinds
Our PVC vertical vinyl blinds are incredibly resilient, economical, and available in a number of varieties. For example, you'll be able to choose if you want them to be room darkening or semi-opaque.
Wood Blinds
Available in 30 different stains and 10 paint colors, our wood blinds are a great choice for those who want to add elegant window treatments to their home. This style blind is also available with cordless and motorized controls, making them ideal options for those who have children and pets.
Faux Wood Blinds
If you love the look of classic wood but have strict budgetary limitations, our faux wood blinds will be the perfect option for you.
In addition to offering window blinds, we provide top-notch installation services. Our skilled team of committed professionals will make certain your new window treatments are installed properly so that they look great and function flawlessly well into the future.
Contact Beltway Blinds today to learn more about the premium window blinds we offer to homeowners in and around the Washington, D.C., area. We'll be delighted to answer any questions you have. And, when you contact us, don't forget to inquire about the financing and same-as-cash options we offer to qualified homeowners.