Beltway Blinds Provides Elegant Window Shades for Homeowners in Clarksburg, MD & Other Nearby Areas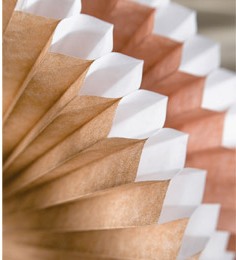 Beltway Blinds proudly provides stylish, customizable window shades for homeowners in Clarksburg, Maryland, and other nearby neighborhoods. Our shades are manufactured by some of the most respected companies in the industry, such as Hunter Douglas and Alta Window Fashions, to ensure you are getting among the highest quality window products on the market. What's more, our shades come with a number of elite features, such as room-darkening and light-filtering effects and top-down engineering.
By choosing Beltway Blinds for your window shades, you will have a satisfying selection of styles to choose from that best suits your Clarksburg, MD, home's current aesthetic appearance. Some of these styles include:
Honeycomb shades – These lightweight window shades are a great way to further your home's energy efficiency. Their honeycomb-like structure combined with their polyester material work to diffuse outside light and limit solar heat retention, which in turn reduces the workload placed on your HVAC system when it comes to maintaining a comfortable indoor temperature. Plus, our array of appealing texture and color options ensures that these shades not only provide your home with a steady interior environment, but that they look great, too!
Roller shades – Our roller window shades are commonly utilized in foyers, sunrooms, and other spaces that receive an abundance of direct sunlight. This shade variety helps to protect your furniture, fabric, and flooring from the damaging effects of outside UV radiation by reflecting light away from your windows during the day. They are available in either light-filtering or room-darkening varieties.
Roman shades – Our roman window shades come in a host of fine fabric combinations and colors, and are commonly used as a finishing treatment. This means that you won't have to worry about any additional products when it comes to your windows looking great all year long. These shades can be made cordless and are also available in top-down or bottom-up models.
Woven wood shades – As one of our most versatile shade products, our woven wooden shades come in nearly 100 different fabric options and provide a distinctive rustic appeal. These window shades come with light-filtering and blackout options, and decorative tape can be added to disguise the shade strings for a designer appearance.
To learn more about our vast selection of window shades for your home in Clarksburg, MD, contact Beltway Blinds today.