A Reliable Company Offering a Wide Selection of Beautiful Window Shades in Washington, D.C.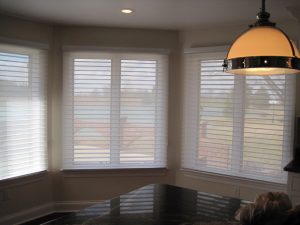 If you're looking for a company to turn to for stunning, custom window shades in the Washington, D.C., there is no better choice than Beltway Blinds. We offer an immense selection of products in a diverse assortment of styles, colors, and sizes to fit windows of all kinds. Plus, with our installation expertise, you can be sure that your new window coverings will provide optimal beauty and performance for years to come. All of that, combined with the outstanding professionalism and courtesy we work with, is why it's no surprise that we possess an A+ rating with the Better Business Bureau. If you're ready to find out what all the fuss is about, we would love to take your call!
Window Shades From the Industry's Best Manufacturers
All of our window shades come from premium manufacturers like Alta Window Fashions and Hunter Douglas, which is what makes us so confident that you'll absolutely love them. Not to mention, in addition to these coverings being crafted by such respected manufacturers, they also come backed by some of the most robust manufacturer warranties in the industry. That allows you to have the utmost peace of mind in your investment, which is always a comforting feeling.
A Variety of High-End Window Shades Available to You
When you partner with us for your new window shades, you'll be able to select from a wide range of top products. Our available options include:
Room-darkening window shades – These products provide the greatest level of light control. When closed, they can completely block outside light from a room; when open, they can let in an abundance of natural sunlight.
Honeycomb shades – This style has a three-dimensional honeycomb look when viewed from the side and is a popular product that creates beautiful light dynamics while adding an insulative ability to your window.
Trilight shades – Trilight shades combine a sheer-pleated shade with a honeycomb shade for superior privacy and protection.
Roller shades – Rollers are an economical choice that often come in either vinyl or fabric styles.
Roman shades – Roman shades can soften the look of any window and come in a wide range of fabrics, colors, and styles such as plain fold, flat fold, and hobbled.
Window Shade Installations That Combine Precision & Courtesy
When you turn to Beltway Blinds for an investment in new window shades, you'll be thrilled with the response you receive. Because not only do we offer a wide range of outstanding products but we always vow to install them with the utmost efficiency. Our team of professionals has been thoroughly trained to provide flawless installation work that ensures optimal beauty and performance out of your new treatments that last for years to come. Plus, you will be treated with nothing but respect and professionalism throughout the whole process, making it an enjoyable experience for you.
For additional information about our window shadings and the various options we have available in Washington, DC, contact Beltway Blinds today.