The Advantages of Choosing Custom Wood Blinds for Your Home or Workplace in Alexandria, VA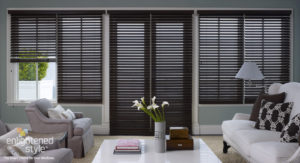 If you're thinking of shading the windows of your home or office with beautiful wood blinds, you have some terrific options to consider. Wooden blinds are not only effective at blocking solar heat and glare and providing privacy, but they also add a touch of class to any interior décor. In fact, they're remarkably customizable, especially when you turn to the experts at Beltway Blinds.
We specialize in custom window treatments from leading manufacturers in the industry, and the wood blinds we expertly install for customers in Alexandria and surrounding Virginia communities are no exception. When you partner with our company, your windows will be adorned by richly textured wood blinds that can stand alone or look great paired with another window treatment. They're also as serviceable as they are attractive because, when closed, wooden blinds prevent heat transfer better than many other types of window coverings. This means you can use your blinds to help your home maintain comfortable temperatures year-round with less reliance on your heating and cooling systems. And that may translate into savings on your monthly energy bills.
Enjoy Wood Blinds with Options Galore
When you turn to Beltway Blinds for your custom wood blinds, you'll be able to choose from:
More than 30 colors and woodgrain finishes
Several types of operation, including cordless lift, wand tilt, and motorized remote control
Slats of various sizes, including 2-inch and 2 3/8-inch versions
What's more, any blinds you purchase from our company will be backed by industry-leading manufacturer's warranties, plus our own five-year warranty on installation. This is an exceptional level of protection for your investment.
If you live or have a business in the Alexandria area, we'll be happy to schedule a complimentary on-site consultation for you so we can tell you more about the advantages of choosing our company to outfit your windows with versatile wood blinds. Contact Beltway Blinds today to make the arrangements.