When Do Wooden Shutters Make Sense for Your Home in Alexandria, VA?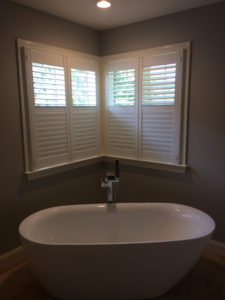 Beautiful wooden plantation shutters can add a timeless elegance to just about any home décor. This is not surprising, as these lovely window coverings first rose to popularity hundreds of years ago. As versatile as they are classy, wooden shutters have remained sought-after all these years for their ability to provide as much privacy and protection from solar heat and glare as you want with the simple flip of the louvers.
If you live in the Alexandria, Virginia, area and you're thinking of having plantation shutters installed at your home, make sure you check out the selection of top-caliber shutters available from Beltway Blinds. We'll be happy to use our extensive knowledge of the window shade industry to help you decide whether wooden shutters are the right choice for your home. In the meantime, here are some things to consider:
Do you have the interior space to open your shutters when you want a full view of the outdoors?
Some people may wish to put furniture close to their windows. This could limit their ability to open their shutters to the fullest, although the slats could still be opened and closed to allow light to enter the room. If this restriction sounds unappealing, you may wish to consider wooden blinds as an alternative to shutters.
Are you planning to adorn your windows with curtains in addition to shutters?
One of the advantages of shading your windows with plantation shutters is that they're great solo acts in the world of window dressing. In many cases, you don't need any other window treatments to complete your interior décor. If you have your heart set on curtains or drapes to complement your wooden shutters, it's not out of the question. However, you'll have to consider whether the window accessories you have in mind will interfere with the operation of your shutters.
At Beltway Blinds, we offer and professionally install beautiful wooden shutters and composite alternatives that are custom manufactured to precisely fit the specific window openings – including specialty-shape windows – of our customers' homes or businesses. We'll be happy to tell you more about the shutters and other fine window treatments we install for homeowners throughout the Alexandria area. Contact Beltway Blinds today to get started.