Shopping for Interior Wooden Shutters? Get the Best Value for Your Home in the Frederick, MD, Area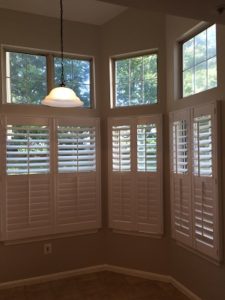 If you've decided that authentic wooden shutters will provide the ideal window treatment for your home in the Frederick area, you'll be joining a line of homeowners that stretches back for centuries. Although one of the oldest types of window treatments, interior wooden shutters – also known as plantation shutters – have held their own against more modern window shading products. In fact, they remain a highly popular choice in this part of Maryland.
However, as with other home improvements on the market, not all wooden shutters are created equal. That's why you'll want to consult with Beltway Blinds to learn about the custom shutters we provide to homeowners throughout this region.
What's So Special About Our Wooden Shutters?
The shutters we expertly install for homeowners are custom crafted by Norman® Window Fashions, a manufacturer that approaches the design and workmanship of wooden shutters as though the shutters were heirloom furniture. Here are only a few of the special touches this manufacturer adds in creating elegant yet incredibly durable shutters:
Prescription Wood Conditioning®, a unique drying process that tailors the shutters' moisture level to suit the climate where the customer lives, thus minimizing the risk of shrinking and swelling
Mortise and tenon joints that will help your wooden shutters stand up to decades of wear and tear
Extra hand sanding and layers of finish to bring out the rich wood textures, topped with a polypropylene coating that will extend durability and also provide for easy cleaning
What's more, these beautiful shutters are backed by the manufacturer's limited lifetime warranty – one of the best in the industry – which we match with a lifetime warranty on our installation.
We'll be happy to tell you more about the custom wooden shutters we expertly install for homeowners throughout the Frederick area. Contact Beltway Blinds today to schedule a free design consultation at your home.