Stylish Window Shades Installed for Homeowners in the Washington, D.C., Metro Area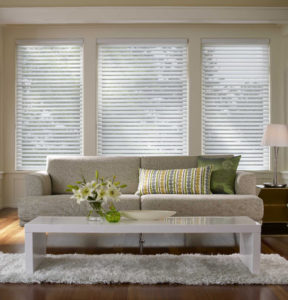 For window shades that can add personalized style to your home in Washington, D.C., or any nearby area, turn to the professionals at Beltway Blinds. We're proud to offer shades from several respected manufacturers, including Alta Window Fashions and Hunter Douglas. Many of our window shades come in both room-darkening and light-filtering varieties, as well as top-down models that allow the upper half of the shades to move down and reveal the window while leaving the lower half in place for privacy.
Types of Window Shades
When you turn to us for window shades in the Washington, D.C., area, you'll have the opportunity to choose from several styles to suit both your taste and the architecture of your home. Our expert design team will be happy to help you decide which type of window shades will meet your needs and look the best in your home. We offer many popular styles, including:
Roman Shades
Roman shades are a soft fabric window covering that lies flat against the window when lowered and folds up into neat horizontal layers when raised. When raised, Roman window shades mimic the appearance of a valance, creating a luxurious look for an affordable price. Roman shades are considered a finishing treatment, which means that no additional products are required for your windows to look beautiful year-round. We offer a wide variety of styles and fabrics, so you can customize these window shades to meet your preferences.
Honeycomb Shades
One of the most energy-efficient types of window shades on the market, honeycomb shades feature rows of tube-shaped cells that trap air and provide insulation. These shades are great for rooms that receive a lot of sunlight and can help your home stay warmer in the winter and cooler in the summer. The honeycomb shades that we install are made from premium fabrics and come in both light-filtering and room-darkening styles as well as top-down and bottom-up versions. What's more, they're available in a wide range of colors and textures, as well as tandem shade and trilight shade options that make them perfect for any home.
Roller Shades
Roller shades are one of the most popular types of window treatments and are likely what comes to mind when you think about window shades. These shades are made from one continuous piece of material that hangs smoothly and rolls up neatly at the top of the window. They are primarily used to either filter or deflect direct sunlight, and to that end, we offer a line of solar rollers, which are shades that reflect direct sunlight and provide significant UV protection.
Woven Wood Shades
Our woven wood window shades are one of our most versatile options. These shades are available in 80 to 100 different fabrics, including light-filtering and blackout options. We also offer many additional aesthetic features such as tandem and trilight shade options and decorative tape for the strings.
Window Shadings
Consisting of two sheers with a fabric blind between them, window shadings are a high-end window treatment that does not require any additional products or accessories. Our window shadings will soften natural light as it filters into your home, helping to create an enjoyable atmosphere. They provide many of the same benefits offered by roller shades and are also available in many fabrics and styles.
Tandem Shades
Tandem shades combine two different window treatments into one covering, with one style serving as the main window treatment and the second style serving as an accent. This allows you to mix-and-match styles and colors for a dynamic look. Thanks to their high functionality and unique design, tandem shades are one of the most popular modern window treatment styles.
Motorized Window Shades
Almost all of the window shades that we install are available with cordless and motorized operation. This eliminates the need for cords and strings, which can not only look messy but also create a safety hazard for kids and pets. Motorized shades can be easily raised and lowered with the touch of a button, making it incredibly convenient to operate your window coverings from anywhere.
Window Shade Installation
Regardless of which window shades you select, your new products will be installed by our skilled professionals, who complete typical installations in a single day. All of our installers are in-house employees and we're so confident in our team that we back their work with a labor warranty on top of any existing manufacturer warranties.
If you'd like to learn more about our window shades and how they can benefit your home in Washington, D.C., contact Beltway Blinds today. When you do, ask about our financing and same-as-cash options, which can help you to manage the cost of your purchase.