A Variety of Elegant Blinds for Homes in the Washington, D.C., Metro Area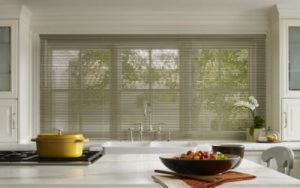 At Beltway Blinds, we're proud to offer a wide selection of world-class window blinds and blind installation services to homeowners in the Washington, D.C., area. All of our blinds can be custom sized, ensuring a perfect fit for every window, and they are engineered to provide exceptional long-term reliability. Our blinds can also be customized to match your aesthetic preferences, with various style, color, and material options available, allowing you to tailor the design to beautifully complement your home's décor.
Types of Window Blinds
There are many different types of window blinds, and we would be happy to help you determine which is the best fit for you. Our selection includes:
Wood Blinds
Wood blinds are a classic style that's sure to elevate the interior design of any home. They are a great choice for homeowners who prefer natural materials, as they reflect the beauty of nature and can help create a warm and inviting atmosphere. Our lightweight wood blinds are available in multiple slat sizes, including 2-inch and 2 3/8-inch models, and come in 30 different stains and 10 different paint options. These window blinds are also available in several designer finishes and with cordless and motorized control options.
Faux Wood Blinds
If you love the beauty of genuine wood blinds but are looking for a more cost-effective option, faux wood blinds are an excellent alternative. Our faux wood blinds mimic the appearance of natural wood and come in a wide variety of sizes, stains, and paint colors. These blinds can also be motorized for convenient and safe operation.
Aluminum Blinds
Aluminum blinds are cost-effective window treatments that resist moisture, making them ideal for bathrooms and kitchens. The aluminum blinds that we install are 1-inch wide and come in about 20 different color options.
Vertical Blinds
As the name suggests, vertical blinds feature slats that hang vertically rather than horizontally. Perfect for large windows and patio doors, these window treatments can easily cover an expansive area for an affordable price. We install two types of vertical blinds: fabric and vinyl, with semi-opaque and room-darkening options available, some of which resemble draperies. Both of these materials are highly resilient, provide years of optimal performance, and are available with many design options.
Window Blind Installation Services
We are pleased to offer professional window blind installation services and can hang your new window treatments in as little as one day. All of our installation technicians are experienced carpenters who have the skills needed to get the job done right. Plus, we never hire subcontractors, and all of our installers are company employees who have been trained to meet our high standards. Furthermore, when you turn to us for blinds, you can be sure that your investment will be protected. We offer a labor warranty on all products we install in addition to any existing manufacturer warranties. We also offer financing and same-as-cash options to help you better manage the cost of your order.
To learn more about the deluxe blinds and other types of window treatments that we can install in your Washington, D.C., home, contact Beltway Blinds today. We would be happy to schedule a free, in-home consultation with one of our expert designers.